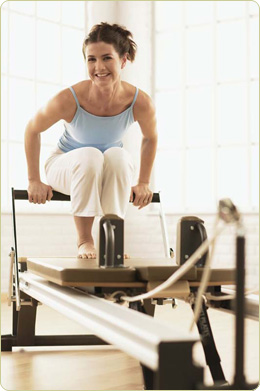 I'm sitting here typing this entry with a dog literally beneath my chair. One mismanaged shift and I'm sure it's going to result in Shreikzilla: He Came From Outer Space, but for some dysfunctional reason, I am quite OK with him needing to be close. Maddie has always been Miss Independent and, at this moment, has decided she should exert her Alphaness by sleeping on the prince's new dog bed in the boudoir. But enough about dogs. I swear I'm not going to become Crazy Dog Guy (again).
To the left is a super happy chic sitting on a pilates reformer. I began my pilates instructor training in 2007, not really sure where it would go but I did have a secret pipe dream: to go all the way with it by 2010. Having tested for my full level-1
STOTT PILATES
certification in May (and anticipating results soon), I enrolled in Advanced Reformer training in March, and am now enrolled for Advanced Matwork and Advanced Cadillac/Chair/Barrels in Toronto, at STOTT PILATES flagship training center in September.
Once this training is complete, I'll test solely on the collective Advanced repertoires then, at some point soon thereafter, will enroll in a course called Injuries and Special Populations (ISP) which focuses on modifications for physical limitations and rehabilitative scenarios. Yes, that means pregnant chics too. In 2007 I was adamant that I knew nothing about birthin' no babies (still don't) and positively wouldn't teach anyone who was pregnant. Of course, back then I also only wanted to teach fit/pretty people, but what I quickly learned is that I derive a lot more satisfaction as an instructor by teaching individuals with physical limitations. And earlier this year I had a very odd Witchy experience: my pal and long-time client came in for an evening class after a brief job-shift hiatus from the schedule. For no reason other than intuition I immediately knew she was pregnant. She said, "Take it easy on my, it's been awhile, and I'm going to have to go easy anyway," and confirmed my suspicion with a wink of the eye.
So I'm excited to continue this learning - particularly with a friend who is sharing this path with me, despite living in Colorado. We're camping out at a bed and breakfast in mid-city Toronto, incidentally the week of the Toronto International Film Festival, and are planning to enjoy the city and, of course, stalk Clive Owen. What makes it even more enticing is that I get to visit all of the many wonderful friends I've made in Toronto as a result of sending my mare, Willow Bay, to be bred there in 2001. I had the opportunity to visit in both 2002 and 2003, and I'm eager to reconnect with them for a little Showcase Showdown.
I am very thankful for the people who have entered my life and encouraged me to continue seeking and searching. I will turn 40 in 2011, and even though I joke (and by joke I mean sometimes I'm not joking) about resisting, as the cliche' goes I know it's futile.
Disclaimer: If you're reading this as a Note on Facebook, it's because my blog - located at www.robbyjohnson.com - feeds directly into my Facebook account. Majikal, right? Point being, if I link a YouTube video or other graphics it may not show up. For your fully-integrated Robby Johnson user experience, visit www.robbyjohnson.com. Let the beat hit 'em, y'all!